Caris Molecular Intelligence – is an advanced, evidence-based tumour profiling service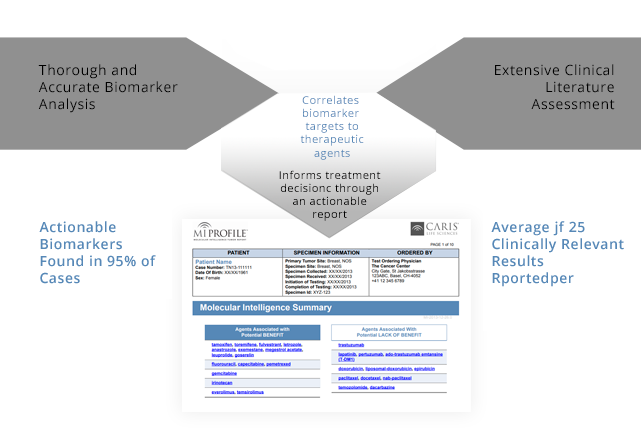 Caris Molecular Intelligence™ makes it possible to measure a wide range of cancer biomarkers (proteins, genes and other molecules that affect the growth, reproduction and response of cancer cells to treatment) and interpret the results to identify the types of treatment most likely to benefit the patient. It may also help eliminate treatments unlikely to benefit the patient.
Results contained in the MI Profile Report enable oncologists to determine better the types of treatment appropriate for a particular patient on the basis of their individual cancers, and not areas of the tumour.
Using a range of advanced technologies, and evaluating relevant biological components of the patient's cancer, Caris Molecular Intelligence relates the changes of biological characteristics of the tumour of each patient with the most reliable data, as reflected in clinical literature on oncology.
Having applied Caris Molecular Intelligence, over 6,000 physicians from 58 countries were able to solve the problem of treatment of more than 60,000 patients suffering from cancer of 150 various histological subtypes.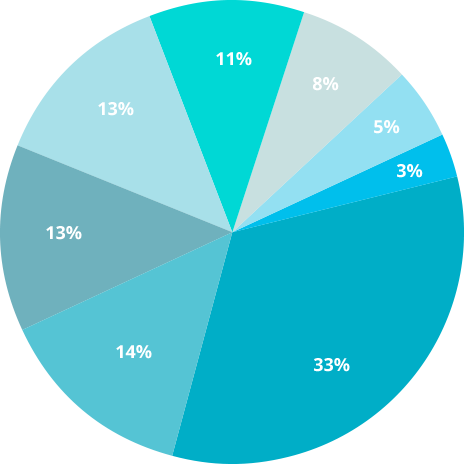 Melanoma; 1693; 3%
Pancreatic; 2485; 5%
Famale Genital Tract Malignancy; 4476; 8%
Breast; 6311; 11%
NSCLC; 7084; 13%
Colorectal; 7374; 13%
Ovarian Surface Epithelial; 7706; 14%
Other; 18130; 33%
How is the testing process organized?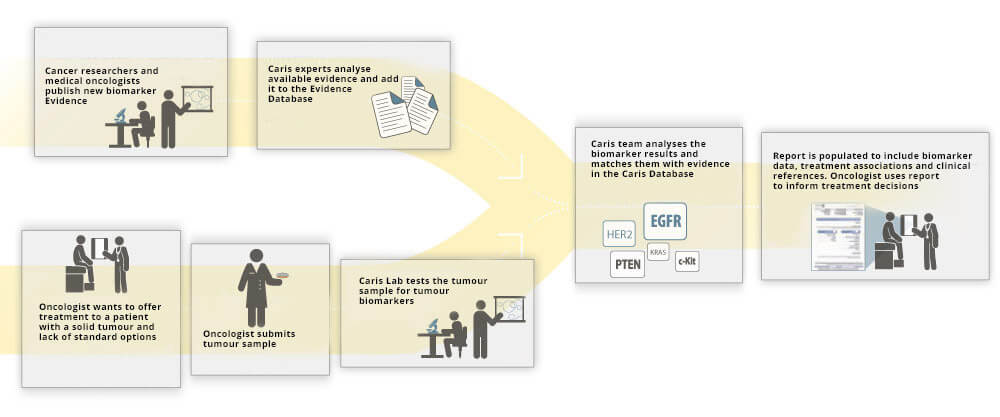 Oncologist wants to offer treatment to a patient with a solid tumour and lack of standard options
Caris experts analyse available evidence and add it to the Evidence Database
Oncologist wants to offer treatment to a patient with a solid tumour and lack of standard options
Oncologist submits tumour sample
Caris Lab tests the tumour sample for tumour biomarkers
Caris team analyses the biomarker results and matches them with evidence in the Caris Database
Report is populated to include biomarker data, treatment associations and clinical references. Oncologist uses report to inform treatment decisions
What documents must be prepared for Caris Molecular Intelligence testing?
Your request will be processed by AMAXA on obtaining the following documents:
The completed form signed by a physician (see sample)
Recent records containing the patient's health card, if available
Histology conclusion for the sample to be sent for testing (please check the sample tracking number)
To arrange a test or request more information, please send your request via email to testinfo@amaxa-pharma.com. AMAXA is the authorised representative for providing the Caris Molecular Intelligence service. It sends samples to the Caris laboratory, oversees the preparation and receipt of the report (with a list of medicines in the most and the least suitable for the treatment of the patient) and transmits the report to the attending physician.
What are the advantages of using Caris Molecular Intelligence?
Caris Molecular Intelligence helps to create a treatment plan if there is any doubt as to the treatment of patients with inoperable primary or metastatic tumours.
Caris Molecular Intelligence allows physicians to:
Select the most effective form of therapy
Determine the type of treatment not previously considered
Exclude potentially ineffective medicines
Which patients is the Caris Molecular Intelligence study method intended for?
Despite being developed to study solid tumours, including cancers of unknown primary sites, the Caris Molecular Intelligence study is particularly important in determining the treatment method of:
Rare tumours if there is a limited amount of data available to make a decision as to the method of treatment, e.g.
Aggressive metastatic and resistant diseases, when there is a limited time to choose an effective therapy, e.g.
melanoma
ovarian cancer
pancreatic cancer
triple negative breast cancer
PRESENTATIONS